OUTSOURCING WITH NBS, INC.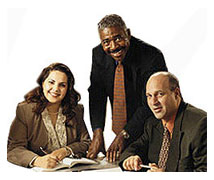 We understand that the benefits staff of today's corporation is wearing more hats than ever and COBRA administration is a time intensive, highly regulated function. In addition to the drain on human capital, COBRA presents an ongoing financial liability. There is no advantage in maintaining the internal expertise required to comply with the ever-changing COBRA laws. Outsourcing with us, will allow you to focus your attention where it belongs… on your employees.
Included Services:
Send General Notice to newly covered employees & dependents when coverage starts. This notice will be sent within the required 90-day period and sent via first class mail.
Send Qualifying Event Notices to qualified beneficiaries. This notice will be sent within 14 days of receiving the qualifying event information from employer.
Process COBRA Elections and notify the employer of the COBRA election.
Collect all premiums from qualified beneficiary (we provided "Coupon Book" for use in paying COBRA premium).
Send short payment notification when a premium is received for the incorrect amount (must be within 10% of premium cost).
Send Conversion Notice (only if available to active employees).
Send COBRA Termination Notice
Send Unavailability of COBRA Notification (In the event, the Plan Administrator is informed of a qualifying event but not in a timely fashion or is deemed ineligible for continuation coverage).
Remit payments to employer, on a monthly basis, of all received COBRA premiums in order to remit to the insurance carrier(s) with their regular insurance premium payment.
Provide detailed reports on your employees and COBRA participants.
Online services for all Employers' (Used to send data on newly hired employees and COBRA qualifiers).
Handle all customer service calls from COBRA qualifiers and participants.
Backup Information and keep copies of all notifications sent for appropriate time frames.
Responsibilities of the Employer:
Employers must provide information to Nationwide Business Solutions of each employee who is eligible to receive an initial notice of their COBRA rights once they are enrolled on a health plan (Medical, Dental, Vision, etc…).
Once a qualifying event occurs, the employer must inform Nationwide Business Solutions in a timely fashion (30 days from the loss in coverage).
Nationwide Business Solutions will remit collected COBRA premiums to the Employer each month to submit to the proper insurance carrier in order to secure accurate coverage for COBRA participant.
The Employer must keep Nationwide Business Solutions informed of all COBRA benefit plan specifics including renewal dates, plan changes, premium changes and employee additions and terminations.
Request a Quote:
If you would like to receive a quote for COBRA services, you can complete the Client Information Form and fax it to us, or contact us by phone or email.